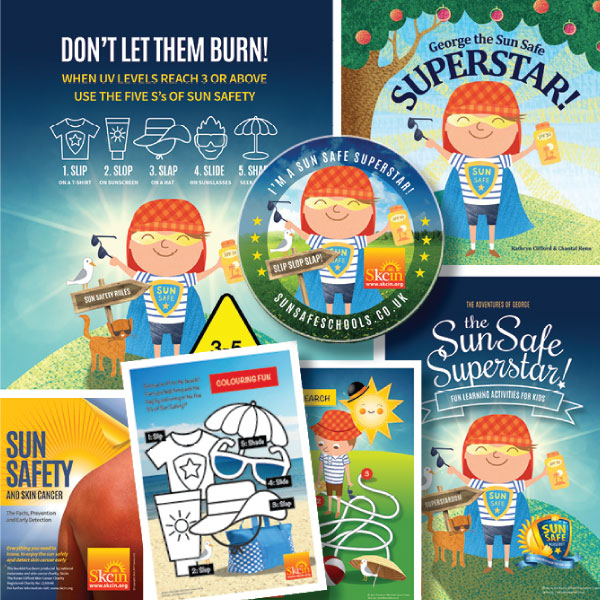 Sun Safe Nurseries

Awareness Resource Pack
This resource pack has been developed to provide nurseries and pre-school settings with a range of resources to display, provide awareness for parents and educate & reward children with fun and engaging teaching resources. The pack contains: An A3 awareness strut card (can be wall mounted or desktop displayed); 100 copies of Skcin's 'Sun Safety and Skin Cancer' information booklets (for parents & staff); A copy of the popular story book 'George the Sun Safe Superstar'; 6 activity cards to photocopy at need to engage young learners, and 100 Superstar reward stickers. The resource pack costs £29.99 which currently includes delivery within the UK, with all funds ploughed back into the charity to support our work.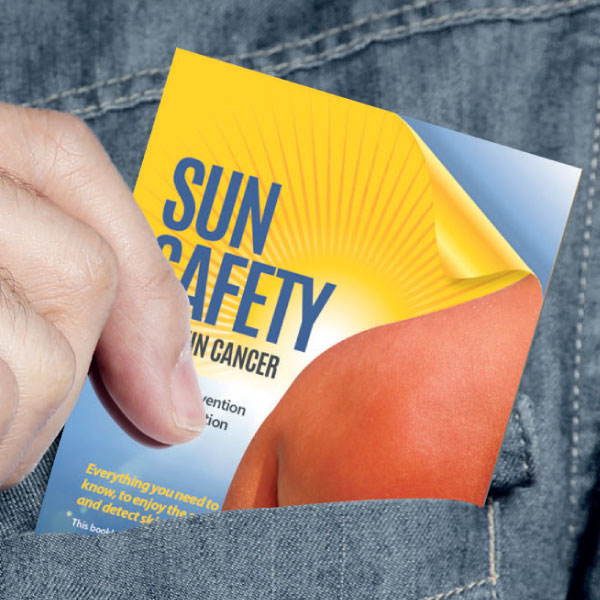 Sun Safety and Skin Cancer

Information for Parents
Skcin's Sun Safey and Skin Cancer pocket sized booklets are ideal to give to parents to not only reinforce your efforts and generate support, but in raising vital awareness on the risks associated with UV, how to prevent skin cancer and how to detect the early signs and symptoms. A pdf version is available to download and email below, or ideally you can purchase copies for parents to refer to and retain. 100 copies are available by purchasing the Nursery Pack, or you can purchase a box (containing 320 copies) below.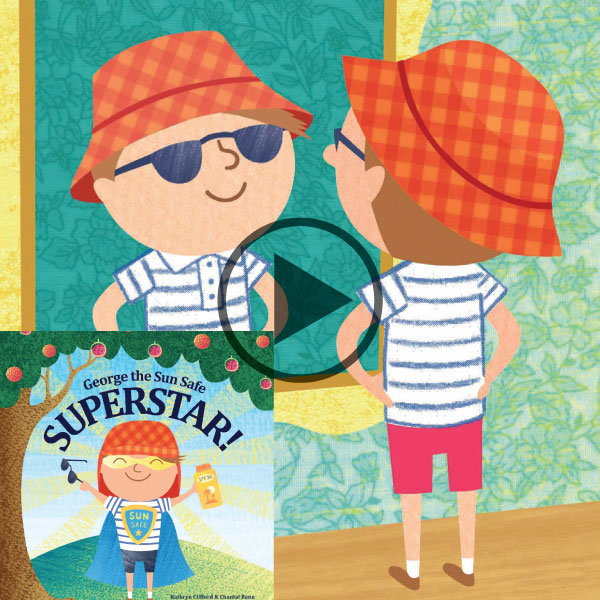 Story Book and Animation

'George the Sun Safe Superstar'
This beautifully illustrated, rhyming story book tells a wonderful tale of a young boy who learns all about the importance of sun safety - how he spreads the message near and far and becomes a 'Sun Safe Superstar'. Extremely popular with children up to the age of about 10, this book is a fun and engaging resource to educate youngsters on how and why to stay safe in the sun. The animation version is voiced by former singer, TV presenter and model Jenny Frost and sponsored by AXA PPP Healthcare.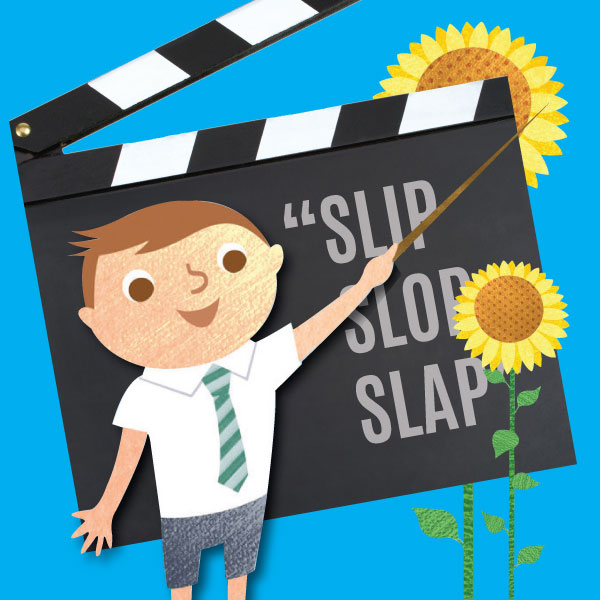 Queue the Music!

the 'Slip, Slop, Slap' Song!
The Slip, Slop, Slap song is a catchy, fun learning tool that teaches children the sun safe rule, embedding vital messaging. Used widely by pre-school settings nationwide on a daily basis to sing whilst getting ready and prepared for outdoor play. It's repetative messaging allows children to sing along, but I'm affraid it is one of those songs... 'you just can't get it out of your head!'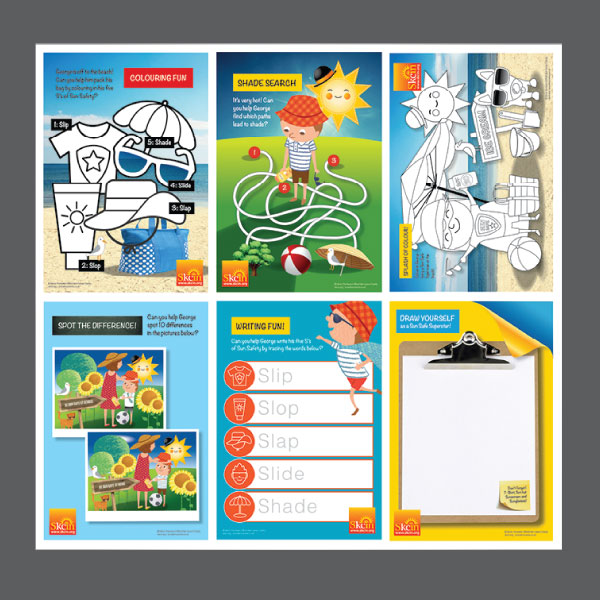 The Adventures of George the Sun
Safe
Superstar Activity Sheets
Reinforce key messaging with these fun and engaging activity sheets featuring children's favourite Sun Safe Superstar, George. With drawing and colouring fun, spot the difference and an early intoduction to writing, these activities can be used periodically to reinforce key messaging from the book and song.
These activity sheets are also available to purchase as part of the Sun Safe Nurseries Awareness Pack, printed on quality card and protected in an acetate cover with slip binder, they are perfect to photocopy whenever you need to educate your little sunbeams.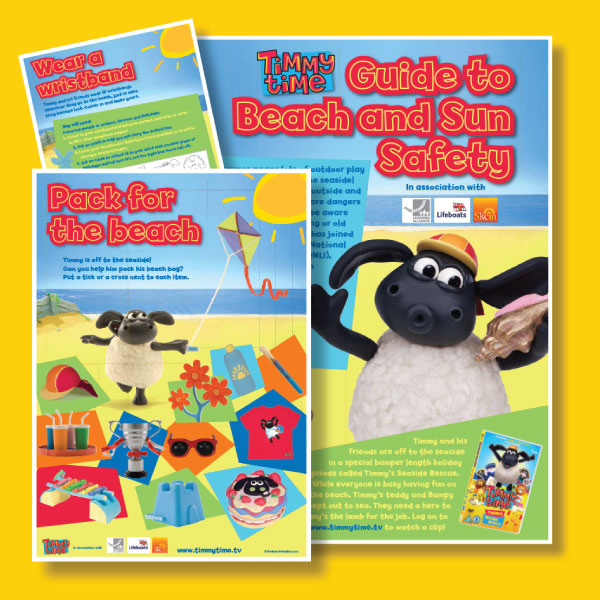 Timmy Times Guide to

Beach and Sun Safety
Protecting children from over- exposure to the sun is important at any time, but when we go the beach, it is also important to help children learn important messages about beach safety. The Timmy Time Guide to Beach and Sun Safety was produced by Aardman Animations in association with Skcin, the RNLI and the Pre-school Learning Alliance to raise awareness amongst early learners. From knowing your beach flags and designing your identity bracelet to helping Timmy pack for the beach, remembering his hat, sunscreen and sunglasses, these fun activities help to embed vital messaging that could save lives.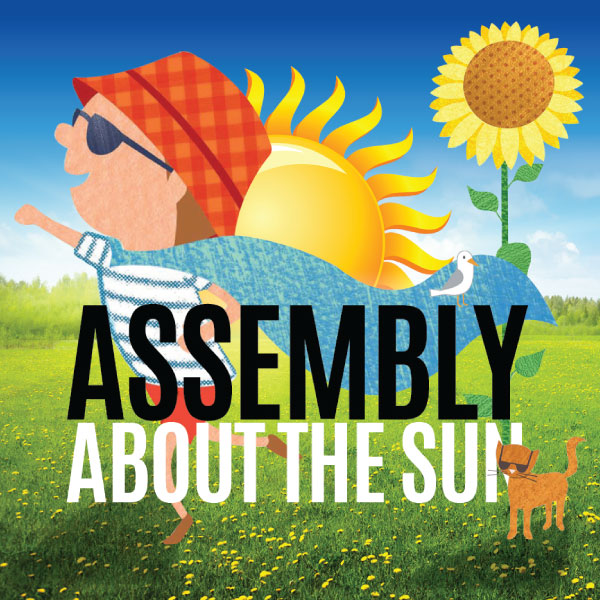 Sun Safe Nurseries

Assembly Slides
Why not assemble all the children for a simple, group discussion based lesson with a series of slides available to download as a pdf or PowerPoint presentation.
The slides will guide you through talking to the children about the sun, how it is good for us, how it can be bad for us, how it makes us feel and how we can protect our skin from damage using the five S's of Sun Safety.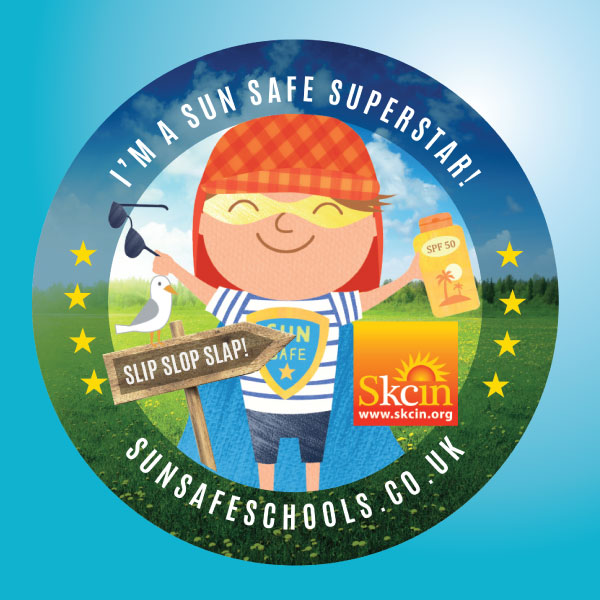 Sun Safe Superstar

Reward Stickers
Every child loves receiving a sticker to congratulate them on their acheivements, so why not reward your little sunbeams for their work or for demonstrating good sun safe practices like putting on their sun hat, finding their sunscreen or playing in the shade.
These great stickers can be purchased as part of the nursery resource pack detailed above, or purchased separately in sets of 120 here.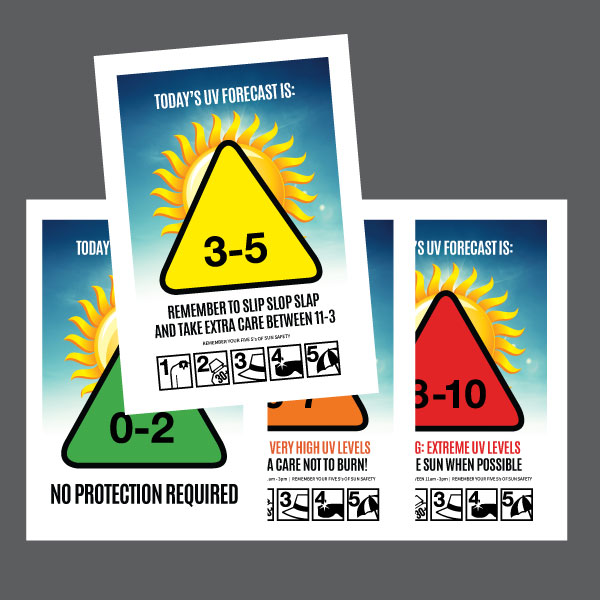 Posters to Monitor

Daily UV Levels
Teaching children the importance of checking the UV forecast is a great way to reinforce sun safe messaging on a daily basis. Therefore why not nominate a child each day to become the UV Montor, giving them the responsibility of selecting the correct poster to display and advise the other children of the required protection!
A five day UV forecast provided by the Met Office in association with Skcin can be found by clicking on the 'Today's UV' tab and entering the required location.